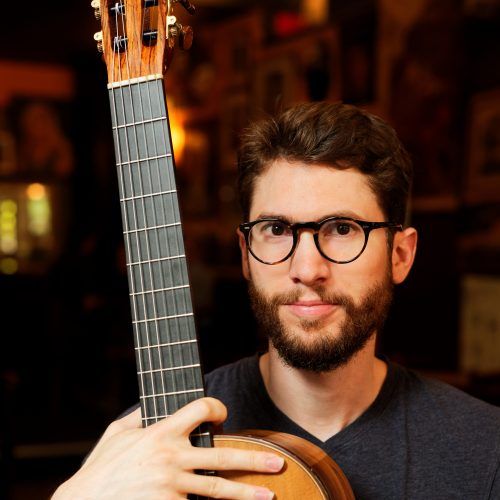 Thomas Viloteau
French guitar phenomenon Dr. Thomas Viloteau is widely considered one of the most gifted classical guitarists today. His first concert was in his home country of France only a year after he began playing, in front of an audience of 200 people. Since that concert, Thomas has played in some of the best venues throughout the United States of America, Canada, Mexico, Germany, the Netherlands, Italy, Spain, Norway, Sweden, Great Britain, Taiwan and Puerto Rico.
Born into a family of fine arts enthusiasts, Dr. Viloteau took his first lesson at the age of twelve. Eight years later he won first prize at the Guitar Foundation of America Competition and subsequently spent a year concertizing in the United States. Other first prizes include the Francisco Tárrega competition in Spain, Mottola competition in Italy, Sernancelhe competition in Portugal, Ville d'Antony competition in France, and Segovia competition in Spain. Dr. Viloteau is the only guitarist to ever win the Arthur Foote Award from the Harvard Musical Association.
His book on guitar technique, 'In the Black Box, Technique(s) of the Classical Guitar,' has sold more than a thousand copies worldwide. He has been the Artist-in-Residence at the radio show Performance Today, broadcasting his playing performances to more than a million people across the USA. Dr. Viloteau has released recordings with Naxos, MelBay and La Ma de Guido. His two latest albums, 'Dances Through the Centuries' and 'A Song and Dance' released on Tigado, contain world premiere recordings of the Suite Brasileira 3, which was commissioned and dedicated to Dr. Thomas Viloteau, and of the Suite Brasileira 4, both by Sergio Assad. Dr. Viloteau has lived in Barcelona, Paris, San Francisco, London, Arizona, Montréal and Rochester, NY. In 2019, he joined the guitar faculty at the Peabody Institute of the Johns Hopkins University in Baltimore, MD.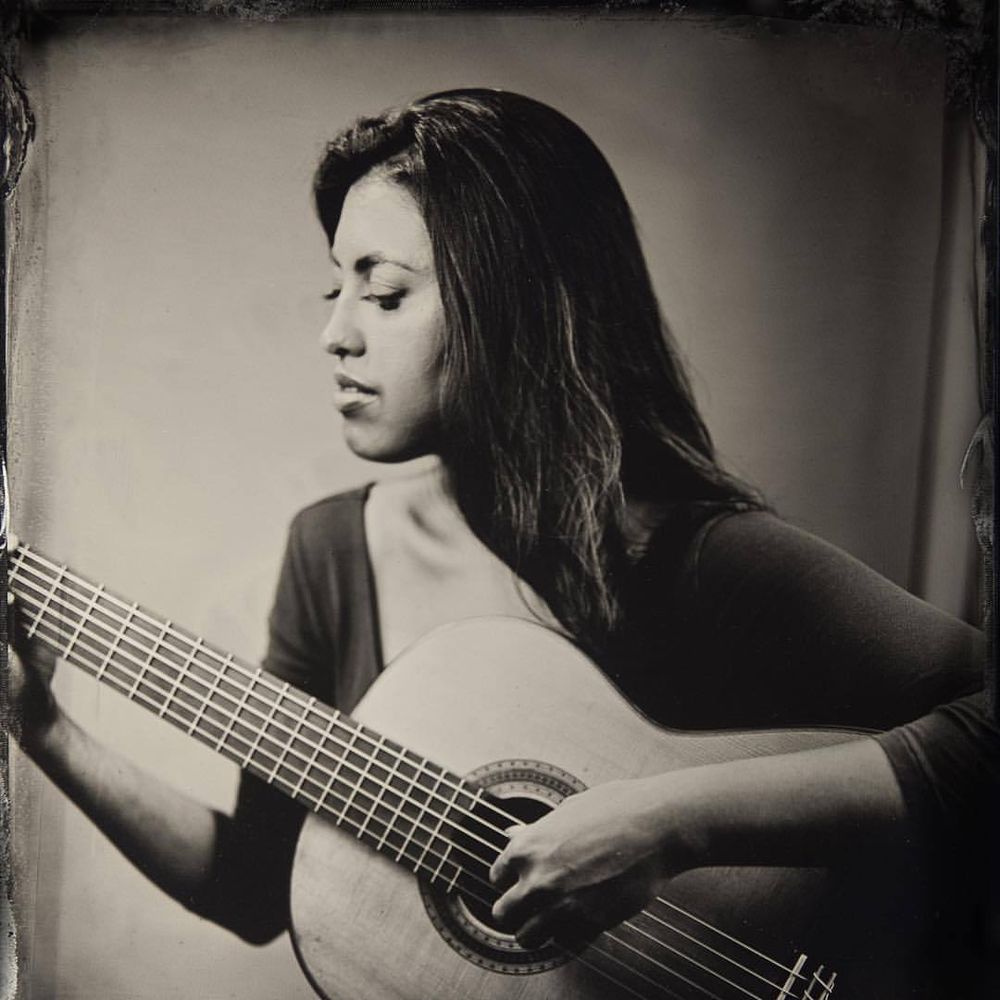 Alexandra Iranfar
Alexandra Iranfar is a San Francisco- based classical guitarist and soprano—who performs in solo and collaborative projects. She has been acclaimed as a "song stylist" by the San Francisco Examiner. Her most recent project brought her to Berlin, Germany where she filmed a music video for Open Strings Berlin who presents young upcoming artists. She is a founding member of SopraDuo, a performing chamber group, and has released two albums, one of which features all new music written for her duo by composers from the Guerrilla Composers Guild. In 2016, Sèrgio Assad wrote SopraDuo a piece for two-guitars and voice entitled "Variations on a Lullaby." Alexandra has commissioned over a dozen pieces for her unique abilities as both soprano and guitarist, including by GRAMMY- award winning composer, Christopher Tin.
Alexandra earned a Master of Music and Professional Studies Diploma in Guitar Performance from the San Francisco Conservatory of Music, where she studied with Grammy Award-winning artist Sérgio Assad. She was awarded guitar department honors and was a finalist at the 2013 San Francisco Conservatory of Music Concerto Competition. During her time at SFCM, Alexandra served as the Graduate Assistant to the guitar department, and chair David Tanenbaum. She received her Bachelor of Music degree in Guitar Performance from the Peabody Conservatory of Music of the Johns Hopkins University, where she studied with renowned pedagogue Julian Gray. While at Peabody, Alexandra double majored in classical guitar and classical voice. She was the only student in the Peabody Conservatory's 157 year history to do so . She was featured on the opera stage in Giuseppe Verdi's La Traviata, Leoš Janáček's The Cunning Little Vixen, and W.A Mozart's The Magic Flute. She also premiered the one-act opera Generations, by rising star Emily Koh, to the critical acclaim of the Baltimore Sun.
Alexandra is on faculty at the California Conservatory of Music where she maintains a private Suzuki Method studio and teaches the award winning advanced ensemble. She is Co-Artistic Director of the vibrant Peninsula Guitar Series, a guitar series and non-profit organization who serves the community through concerts and outreach. Alexandra enjoys cooking vegan cuisine, the smell of hyacinths, travel, being near the sea, and a dark roast cup of coffee.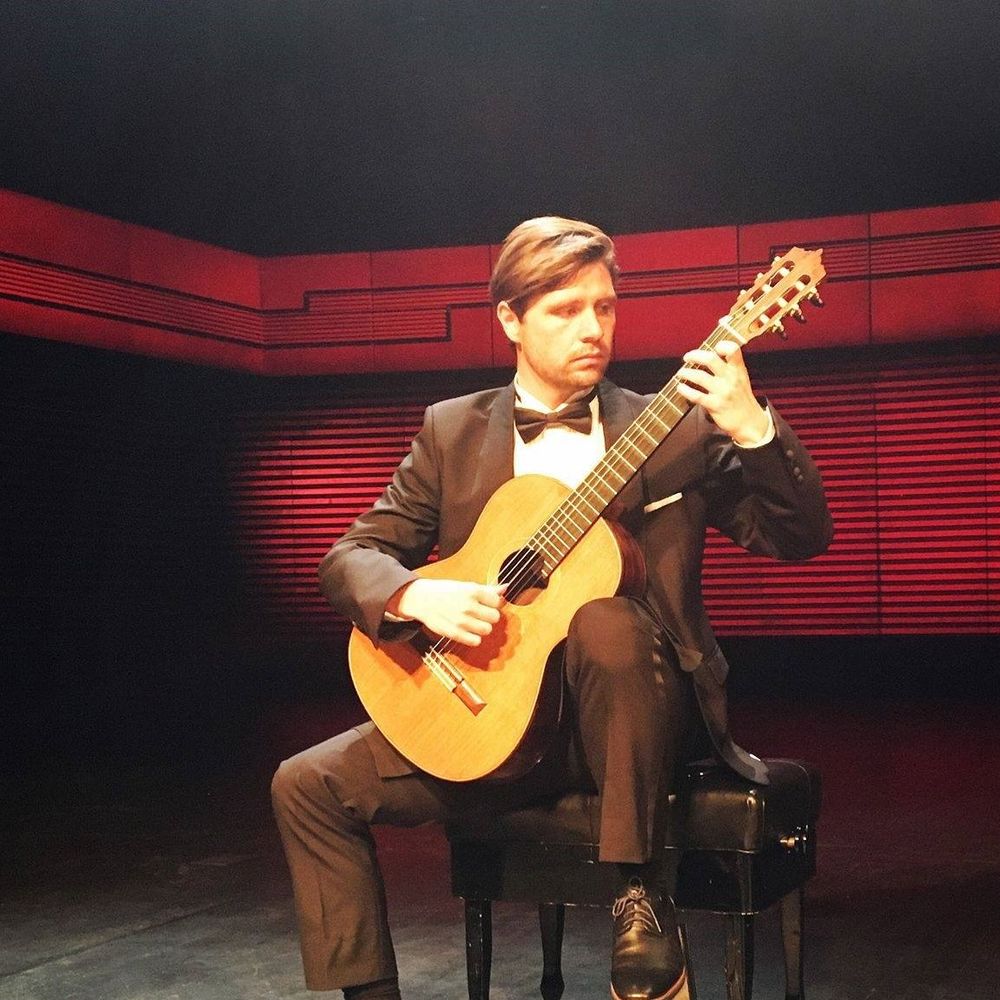 Svanur Vilbergsson
Svanur Vilbergsson ranks among the most prominent classical guitar players of his generation. Past performances include recitals in Boston, Seattle, and Majorca. The Spanish composer Mateau Malondra Flaquer has dedicated works to him and in 2014 he premiered alongside the Reykjaví Chamber Orchestra a new guitar concerto written by the composer Oliver Kentish and dedicated to him. In addition to his concerts throughout Europe and the USA, Svanur Vilbergsson continues to perform on the most visible stages in his native country. He is a member of Stirni Ensemble and The Icelandic Guitar Trio, both groups specializing in the performance of contemporary music. His cd Four Works was published in 2011 to great acclaim and includes works by Antonio José, Mauro Giuliani, J. S. Bach and Giulio Regondi.
Vilbergsson holds a Bachelors degree from the Maastricht Conservatory (Holland), where he studied guitar with Carlo Marchione and chamber music with cellist Alexander Petrasch and violist Henk Guittart. His other teachers have included Arnaldur Arnarsson (Escola Luthier, Spain) Sonja Prunnbauer (Hochschule für musik Freiburg) and Enno Voorhorst, with whom he attained his Masters degree from the Royal Conservatory of The Hague (Holland). He currently teaches classical guitar at The Icelandic Academy of Arts.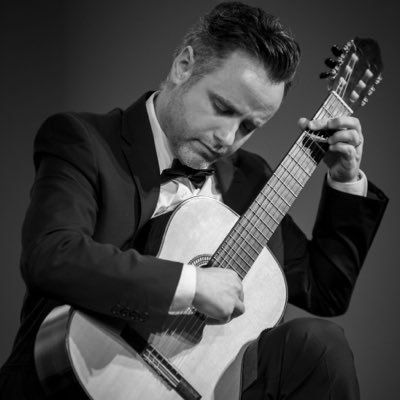 Matthew McAllister
Widely regarded as one of the most exciting and talented Guitarists in Europe Matthew has been delighting audiences worldwide with his insightful performances and effortless presentation in a concert career spanning well over a decade.

Matthew has performed at major venues across the world such as The Concertgebouw Amsterdam, The Purcell Room & St Martin in the Fields, London, Teatro Britanico, Lima, The Sage, Gateshead, Cenart, Mexico City, Caesars Palace, Las Vegas, Eugene O'Neil Theater, San Jose and Dom Armije, Sarajevo to name a few. Matthew has toured extensively throughout North & South America, Canada, Europe and Asia both as a soloist and chamber musician, and has also produced an extensive discography with Baros Records. As an educator Matthew holds the posts of Classical Guitar Lecturer at the Royal Conservatoire of Scotland, and is the Director of the Classical Guitar Retreat. Matthew enjoys keeping in touch with fans and guitarists worldwide and has a very wide reaching internet presence, you can follow him easily on Facebook, Twitter and Youtube.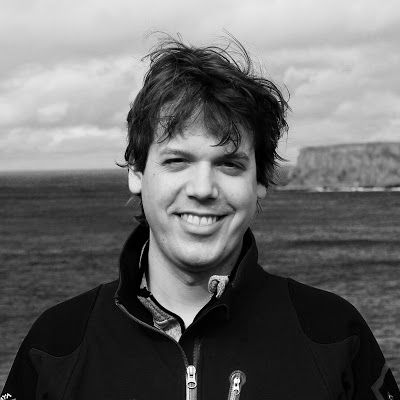 Uros Baric
Uros Baric is an acclaimed classical guitarist, guitar instructor and music producer from Slovenia. He started his musical journey in his hometown Sezana with guitar teacher Igor Kos. While in high school, Uros studied guitar in Trieste with Marko Feri and won highest prizes at international competitions for young musicians such as 1st prize at Concorso Europeo di Chitarra Classica Premio Enrico Mercatali in 2004. He holds a Master's Degree from Universität für Musik und darstellende Kunst in Vienna, where he graduated with honours in 2011, in the class of world-renowned guitarist Alvaro Pierri.
Uros has performed in several European countries (Slovenia, Austria, Italy, Switzerland, Scotland, Czech Republic, Slovakia) and taught masterclasses at international festivals like Classical Guitar Retreat, Kras Guitar Festival, Lent, ECHOS Festival and Postojna International Guitar Festival. His concert appearances include a solo recital at Slovenian Philharmonic Hall in Ljubljana, a series of concerts for GM oder Jeunesses Musicales, a solo recital at prestigious concert cycle Sounds of Classics at Ljubljana Castle and performances at Classical Guitar Retreat.
Uros has released four solo albums (Fernando Sor, 2014; Baroque Music, 2017; Midnight, 2018; Fingers of Time Vol. 1 & 2, 2020), a flute and guitar album Summer Skies and featured on Matthew McAllister's album American Collection. He plays a wide variety of music, from early music to contemporary classical music, while also exploring genres like traditional, fingerstyle, popular, Latin American and film music.
Uros is quickly establishing himself as one of the classical guitar and recording authorities online. His YouTube music videos and tutorials have had millions of views and his channel has gained a large following of 12000 subscribers and growing. He also runs Guitarise, an online classical guitar learning platform. He is the founder of Baros Records, an independent record label and recording studio focused on releasing high quality classical guitar music. Uros is Augustine strings and Earthworks microphones artist. He plays a Michele Della Giustina concert guitar.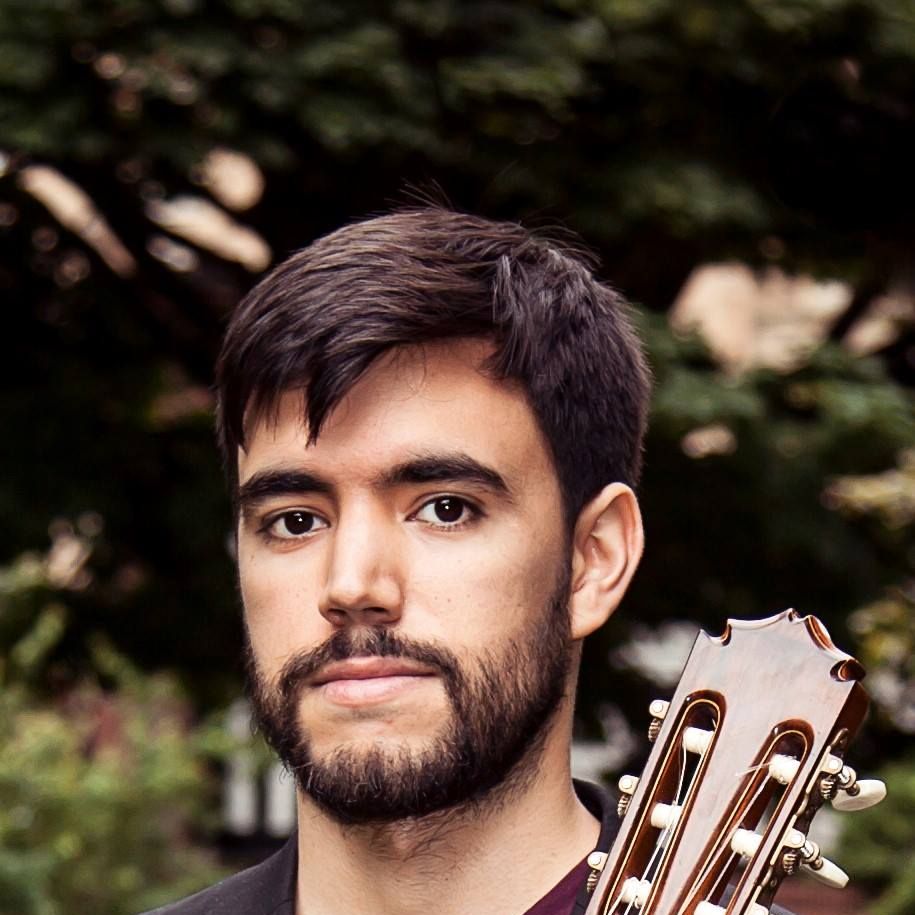 Roberto Hernan Kuhn Versluys
Roberto Hernan Kuhn Versluys is a Classical Guitarist from Chile who graduated with a Master's
degree from the Royal Conservatoire of Scotland. During his studies, he was awarded a full
scholarship and the Outstanding performer prize by the Pontifical Catholic University of Chile in
2013, and subsequently awarded a scholarship by the Royal Conservatoire of Scotland and Ibanez-
Atkinson foundation in 2015 for his Master of Music degree. He also holds bachelor's degrees in
Composition, Musical Education and Classical Guitar from the Pontifical Catholic University of
Chile.

Roberto currently lectures for the Junior department of the RCS and the High School of Glasgow
Junior and Senior schools. His career as a soloist and as a chamber musician has taken him all over
the world including Mexico, Peru, Bolivia, Colombia, Spain, France, Germany, Ireland, England, and
Scotland. As well as teaching and performing, Roberto directs the Royal Conservatoire of Scotland Guitar
Orchestra, working with many aspiring Classical Guitar students in Scotland. He also works as
assistant editor for the Virtual Guitar Orchestra; creating projects that involve classical guitarists from all over the world.